The flowing waters and artistry of the Plaza de Fundación, or Foundation Plaza, commemorate the founding in 1718 of Mission San Antonio de Valero and the Presidio San Antonio de Béjar, which grew to become Bexar County, San Antonio, and many other municipalities. Here the heavens and earth unite as water cascades over a screen depicting the night sky seen by the founders on May 5, 1718. Water falls to the cypress-shaded pool below, a gathering place for current and future generations to contemplate the sacrifices and triumphs of the multi-cultural peoples who labored tirelessly to build, defend, and govern their community. As darkness falls over Plaza de Fundación, the stars glisten in the falling water in a vivid demonstration of the cosmic bond that links generations across time and space.
"Rain from the Heavens," formed from pierced stainless steel panels, transforms the utilitarian San Pedro Creek flood control tunnel inlet into a dynamic artistic installation. Water cascades over the perforated panels that are backlit at night, forming the pattern of the night sky as it appeared to the founders on May 5, 1718. This historical appearance of the cosmos was documented for the San Pedro Creek Culture Park by the staff of San Antonio College's Scobee Planetarium.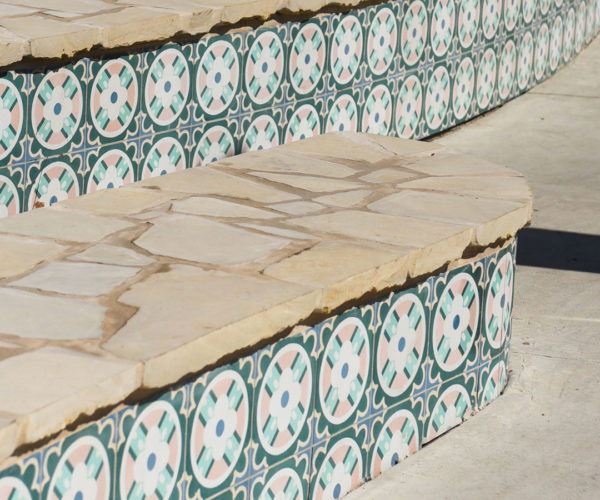 Artist Michael Menchaca's colorful tile patterns, used throughout the San Pedro Creek Culture Park, are based on the tradition of Mexican Talavera tile work. Menchaca's designs depict various themes including "Generations," used here in Plaza de Fundación. These tiles are set in limestone benches to mark the twelve generations of the community since its founding in 1718.
El mural"La lluvia de los cielos", formado a partir de secciones de acero inoxidable con perforaciones, transformaen una dinámica manifestación artística la entrada del túnel de control de inundaciones, necesario para reducir el flujo del Arroyo San Pedro.  Las cascadas de agua caen sobre los paneles perforados que se iluminan por la noche, formando un patrón del cielo nocturno semejante al que vieron los fundadores el 5 de mayo de 1718. Este episodio histórico del cosmos fue documentado por el personal del Planetario Scobee del Colegio Universitario de San Antonio para el Parque Cultural del Arroyo San Pedro.
Las aguas en movimiento y el arte de la Plaza de la Fundación, o Plaza de Fundación, conmemoran la fundación de la Misión de San Antonio de Valero y el presidio de San Antonio de Béjar en 1718, mismo que creció hasta convertirse en el Condado de Bexar, Ciudad de San Antonio, y muchos otros municipios. Aquí, los cielos y la tierra se unen como cascadas de agua a través de este mural que refleja el cielo nocturno que vieron los fundadores el 5 de mayo de 1718. El agua cae a la pileta sombreada por cipreses, un lugar de encuentro para las generaciones actuales y futuras para contemplar los sacrificios y los triunfos de los pueblos de diversas culturas que trabajaron incansablemente para construir, defender y gobernar su comunidad. Conforme la oscuridad va cayendo sobre la Plaza de la Fundación, las estrellas brillan en el agua que cae, en una demostración elocuente del vínculo cósmico que conecta las generaciones a través del espacio y del tiempo.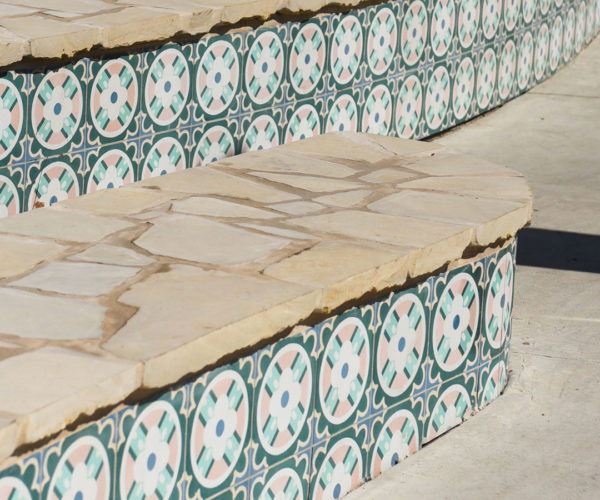 Los coloridos patrones en mosaico del artista Michael Menchaca, utilizados en todas partes del Parque Cultural del Arroyo San Pedro, se basan en la tradición mexicana de los azulejos de Talavera. Los diseños de Menchaca representan diversos temas, incluyendo "Generaciones", que se usa aquí en la Plaza de la Fundación. Estos mosaicos están instalados en bancas de piedra caliza para celebrar las doce generaciones de la comunidad desde su fundación en 1718.